Duplex Stainless Steel A790 SA790 S31803 2205 Pipe
S31803 Stainless Steel is a 22% chromium, 3% molybdenum, 5-6% nickel, nitrogen alloyed duplex stainless steel with high general, localized, and stress corrosion resistance properties in addition to high strength and excellent impact toughness.
Alloy ASME SA789 S31803 Stainless Steel Pipe provides pitting and crevice corrosion resistance superior to 316L or 317L austenitic stainless steel in almost all corrosive media. It also has high corrosion and erosion fatigue properties as well as lower thermal expansion and higher thermal conductivity than austenitic.The advantage of a duplex structure is that it combines the favorable qualities of a ferritic alloy stress corrosion cracking resistance and high strength with austenitic alloy ease of fabrication and corrosion resistance.
Duplex Steel ASTM A789 S31803 is a nitrogen enhanced duplex stainless steel that was developed to combat common corrosion problems encountered with the 300 series stainless steel. "Duplex" describes a family of stainless steel that are neither fully austenitic, like 304 stainless, nor purely ferritic, like 430 stainless steel. The structure of S31803 duplex stainless steel consists of austenitic pools surrounded by a continuous ferritic phase. In the annealing condition, S31803 contains approximately 40-50% ferrite. Often referred to as the work horse grade, S31803 is the most widely used grade in the duplex stainless steel tube.
Dimension
Welded: 1/2″~72″
Seamless: 3/8″~16″ / SCH 5S SCH10S, 40S, STD, XS, SCH80S
Grade
UNS S31803, S32205, S32750, S32760, S32304, 1.4462, 1.4410, 1.4501, 1.4362 etc.
Standard
 ASTM A789, ASTM A790, ASME SA 789 ASME SA 790, EN 10216-5, EN/DIN17455-2, EN17456-2 etc.
ASTM A789 A790 ASME SA789 SA790 S31803 Stainless Steel Pipe Composition %:
| | | | | | | | | | |
| --- | --- | --- | --- | --- | --- | --- | --- | --- | --- |
| C | Si | Mn | P | S | Cr | Mo | Ni | N | Cu |
| max. 0,03 | max. 1,00 | max. 2,00 | max. 0,030 | max. 0,020 | 21,00 – 23,00 | 2,5 – 3,5 | 4,50 – 6,50 | 0,08-0,20 | – |
Mechanical Properties of S31803 Stainless Steel Pipe in the Annealed Condition at -20°F to +100°F Size in OD25.4mm, WT 1.65mm
Tensile Strength
 Yield Strength
Alloy
UNS
Spec.
MPa
ksi
MPa
ksi
Elongation in 2 in. (min.) %
Grain Size Req.
Max. Hardness
Duplex 2205
S32205
A789, A790
655
95
485
70
25
—
290HBW,
30* HRC
Duplex S31803
S31803
A789, A790
620
90
450
65
25
—
290HBW,
30* HRC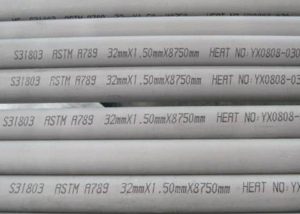 AVAILABLE STOCK OF ASTM A789 S31803 TUBE , ASTM A789 S31803 SS SEAMLESS TUBE
| | |
| --- | --- |
| ASTM A789 S31803 Stainless Steel Coil Tube Supplier & Manufacturer in China | ASME SA789 S31803 Stainless Steel Tube Supplier & Manufacturer in China |
| ASTM A789 S31803 Stainless Steel Capillary Tube Supplier & Manufacturer in China | ASTM A789 S31803 Schedule 40 Stainless Steel Tube Supplier & Manufacturer in China |
| ASTM A789 S31803 Stainless Steel U Bend Tube Supplier & Manufacturer in China | ASME SA789 S31803 Schedule 80 Stainless Steel Tube Supplier & Manufacturer in China |
| ASTM A789 S31803 seamless Tubing Supplier & Manufacturer in China | ASTM A789 S31803 Schedule 10 Stainless Steel Tube Supplier & Manufacturer in China |
| ASTM A789 S31803 Pipe Supplier | ASTM A789 S31803 seamless Stainless Steel Tubing |
| ASME SA789 S31803 Stainless Steel seamless Tube Supplier & Manufacturer in China | ASME SA789 S31803 seamless Cold Drawn Tube Supplier & Manufacturer in China |
| ASME SA789 S31803 Stainless Steel seamless Tube Dealer | ASME SA789 S31803 Stainless Steel Square Tube Supplier & Manufacturer in China |
| ASTM A789 S31803 Stainless Steel Oval Tube Supplier & Manufacturer in China | ASTM A789 S31803 Stainless Steel Hollow Tube Exporter |
| ASTM A789 S31803 Stainless Steel Electropolished Tube | ASTM A789 S31803 SS Rectangular Tube Supplier & Manufacturer in China |
| ASTM A789 S31803 Seamless Stainless Steel Ornamental Tube | ASTM A789 S31803 SS Superheater Tube Manufacturer |
| ASME SA789 S31803 Stainless Steel Hexagonal Tube Supplier & Manufacturer in China | ASME SA789 S31803 Stainless Steel Round Tube Supplier & Manufacturer in China |
| ASME SA789 S31803 Stainless Steel Exhaust Tube | ASME SA789 S31803 Stainless Steel Heat Exchnager Tube |
| ASME SA789 S31803 Seamless Color Coated Tube Manufacturer | ASME SA789 S31803 Stainless Steel Condenser Tube Supplier & Manufacturer in China |
| ASTM A789 S31803 Hot Rolled stainless steel Tube Supplier & Manufacturer in China | ASTM A789 S31803 Stainless Steel Boiler Tube Supplier & Manufacturer in China |
| ASME SA789 S31803 Stainless Steel seamless Tube Supplier & Manufacturer in China | ASME SA789 S31803 Stainless Steel Instrumentation Tube |
| ASTM A789 S31803 Pipe Supplier & Manufacturer in China | ASME SA789 S31803 Sch 5 Stainless Steel Tube Supplier & Manufacturer in China |
| INOX ASME SA789 S31803 Tubing Supplier & Manufacturer in China | ASME SA789 S31803 Stainless Steel Seamless Tubing |
| ASME SA789 S31803 SS 201 seamless Tube Supplier & Manufacturer in China | ASME SA789 S31803 seamless Tube Manufacturer in China |
| ASME SA789 S31803 GR Tube Manufacturer in China | ASTM A789 S31803 Pipe Supplier & Manufacturer in China |
| ASME SA789 S31803 Bright Annealed Coil tube Supplier & Manufacturer in China | ASME SA789 S31803 High Pressure Tube Supplier & Manufacturer in China |
| ASME SA789 S31803 SS Slot Round Tube Supplier & Manufacturer in Chinas | ASME SA789 S31803 Thin-Wall Stainless Steel Tube Exporter |
| ASTM A213 304L Pipe Supplier & Manufacturer in China | ASME SA789 S31803 Stainless Steel Tube Supplier & Manufacturer in China |